What payment method can I use?
We accept the following payment methods,
1. Alipay
2. Paypal
Except the above mentioned payment accounts, we also support payment accounts from Visa/ Master or American Express.
Which restaurants offer vouchers?
Click "Offers" at the right top corner of the OpenRice App
Choose "Vouchers"
You can also select "Districts" or "Dishes" in order to have a better search results
How to buy vouchers?
Make sure the redemption date of the vouchers is effective, and click "Buy Now"
Choose the quantity of the vouchers and pay by "Alipay" or "PayPal"
Confirmed the price and enter your personal information
Follow the instructions to enter the required information and the successful payment confirmation will be shown.
Vouchers are bought successfully!
"Vouchers" are saved and you can use them before they expired
Where can I find my purchased vouchers?
Go to "Me"
Click "Vouchers"
Choose click "Not yet redeemed", "Redeemed" and "Others"
If you get our vouchers directly from other apps (e.g. Alipay), you have to go to the relevant apps in order to view or redeem the vouchers.
How to use my vouchers?
Click "Me" at the right bottom corner of the Openrice App
Click "Vouchers"
Choose the vouchers you want
click "Redeem now"
show the QR Code to the restaurant staff
If the QR code cannot be successfully scanned, get the confirmation code at the right top corner. You don't have to print it out!
Restaurant cannot scan my vouchers
App
If the restaurants cannot scan the QR code, you can click the keyboard icon at the top right corner of the page in order to switch QR code to numbers.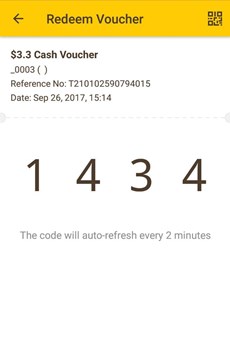 Can I give the vouchers to others?
QR code or redemption code has to be shown in order to redeem the vouchers. Therefore, you cannot give the vouchers to others as the codes will be generated every 2 minutes, the screenshots may be ineffective when you redeem the vouchers.
Do I need to store my credit card information in external payment application?
Alipay and Paypal support non-members using credit card to settle their payments, members are also welcomed to store their information for future convenient use.
What currency does Alipay use to settle my payment?
Since we are using Hong Kong version of Alipay, payment will be settled in Hong Kong dollar.
How to use promo code to purchase voucher?
Choose "Offers" on index
Pick your favorite Voucher and press "Buy Now"
Fill in a valid Voucher Promo Code, then a discounted price will be shown
Press "Place Order" after confirming the quantity and price